Another Tetra project! This is a motorized, adjustable music keyboard stand, to go in the studio of the Vancouver Adaptive Music Society (VAMS). This is to replace an existing wall mounted stand, that IS adjustable, but the adjusting process is difficult. The goal was to create something with wider range of adjustability, and make it easy to adjust.
Here's the initial sketch (click pics to open full size):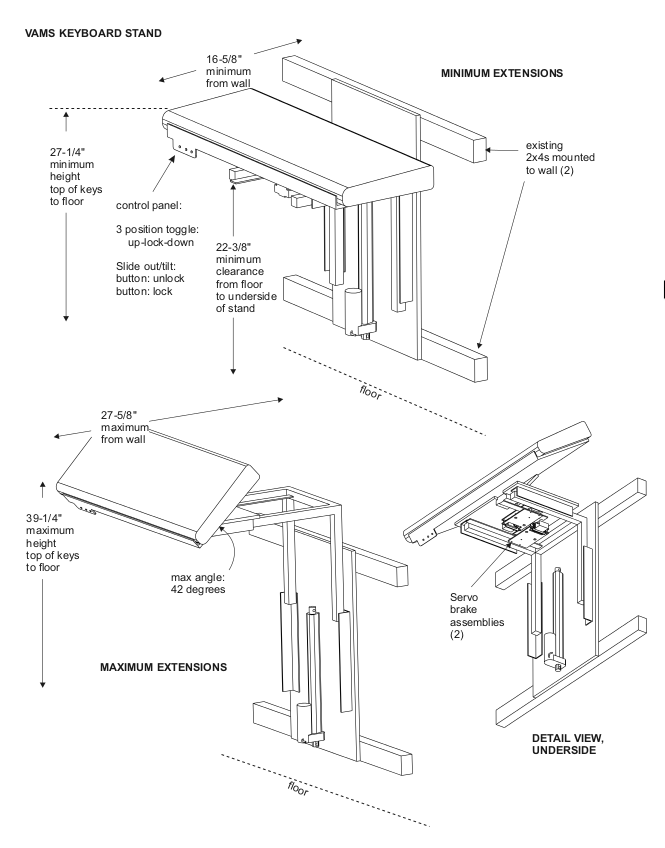 The idea is that vertical adjust is achieved by a 12″ stroke screw-drive linear actuator (this one, bought new from Robotshop), and the in-out and tilt adjustability is provided by easily moving the keyboard manually, then locking into position using the brake assemblies I designed and machined from aluminum. Here's a CAD rendering of one of the brake assemblies: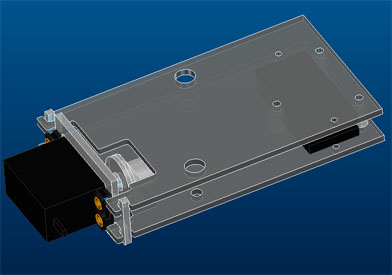 The servo (on left, in black) turns a cam 90 degrees, which opens the spring-loaded brake, which allows a flat aluminum bar to slide freely thru the rubber grips. Here's a pic of it completed and mounted: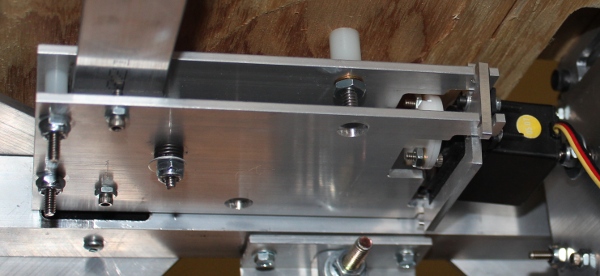 The main sub-frame is fabricated from various aluminum profiles, and fastened with good ol' self drilling #8 screws. Standard drawer glides are used as linear guides. I got them from Mcmaster-Carr. Here's a shot of the completed frame, with glides mounted: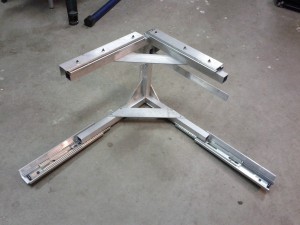 The servos are controlled by an Arduino (what else?) and the vertical linear actuator is controlled by supplying 12V DC power and reversing polarity to go up/down, using this 3-position toggle switch. The arduino senses voltage going thru either pole of the switch, and illuminates an indicator LED when the linear actuator is in motion. Here's a shot of the arduino and perfboard daughter-board ready to mount: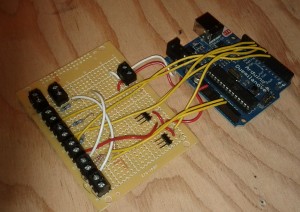 I soldered the perfboard late at night after not much sleep during the preceding days… I accidentally shorted +V to ground, failed to double check, and promptly fried a brand new arduino and power supply when I hooked it up.  Ugh.
Oh well, components replaced, and mounted to the stand, here's how it looks from underneath: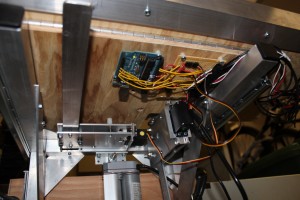 And the (almost) completed stand, temporarily mounted to my NC mill: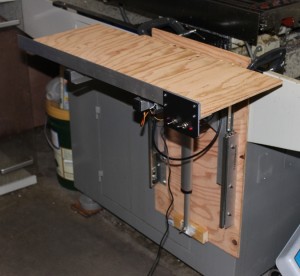 And a video of it in action!
This thing has been a whopping 1.5 years in the making–sorry for the wait VAMS! Unfortunately I've had zero spare time lately, primarily because I've been slave to this startup I began about the same time this project started.
Things left to do:
-cover circuit boards
-zap tie wiring & secure to underside
-get a decent 120V AC > 12V DC power suppply (using and old ATX power supply for now)
-stiffen back plate with thicker plywood, and gusset linear actuator mount to take out some wobble
-put labels on the switches
-see if VAMS still needs this after 1.5 years in the making… if so mount it in the studio